All Weather Safety
Date Posted:24 April 2014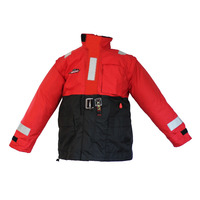 As much as we like to have fun on the water, arriving home in one piece is definitely the most important thing. That's why we ensure all our life jackets are top quality and safety tested. The Menace All Weather Life Jacket is exactly that – quality in safety. From quality to practicality this life jacket is definitely a worth a look.
The All Weather and Auto-Inflate Jacket of Menace Marine is approved by the Australian Standard AS4758.1 and by the ISO 12402-3 International Standards. It is built to withstand all weather conditions. It has a stainless steel ring and internal safety belt for harnessing/lifting loop. Its buoyancy goes over and above safety standards with a 165-newton level.
There are two ways to release the 33g of CO2 and inflate the jacket. One way is through an automatic inflation sensor and the other way is by using the manual activation cord. It has a British UML automatic cartridge for inflation when submerged in water. On the other hand, the manual rip cord can also activate the life jacket inflation. In certain cases where automatic activation is not needed, it is possible to request for the manual inflation option only.
This life jacket not only provides safety, but also provides versatility and comfort. With the removable sleeves, the life jacket can easily turn to a life vest. It also has a hoodie that can be folded away inside the collar when not in use. There are many pockets and the standard safety whistle too. The outer shell is made of nylon and the interlining is made of polyester. Both layers are designed to keep the user warm and protected. In addition, breathing will not be restricted when inflation occurs because of a specially designed release flap located at the back of the life jacket.
Overall, this all weather life jacket is perfect for anyone who seeks quality and safety. Whether you are going canoeing with friends, fishing, or braving the harsh waters, you'll always feel secure with this all weather life jacket.
Related Products
---
Leave a comment